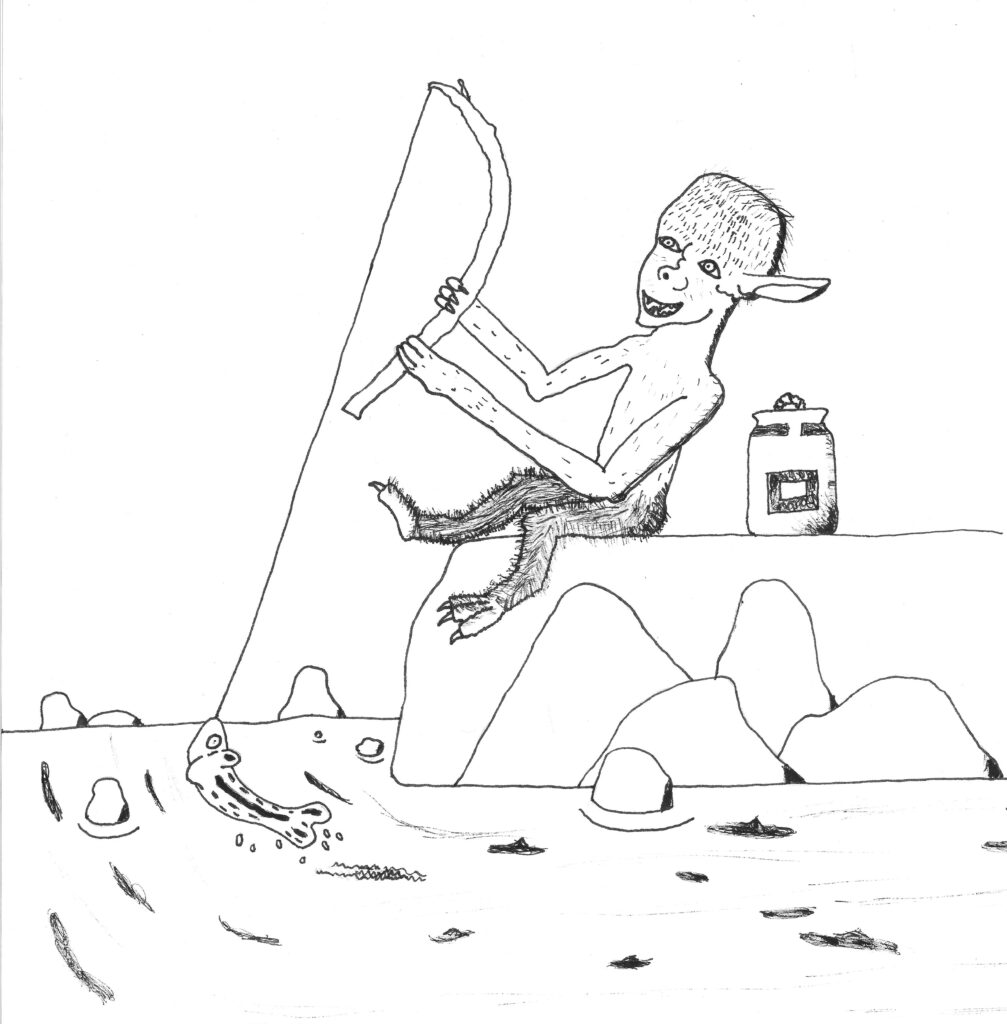 "Bloody hell, those things are everywhere."

Gurngamos cartographer upon finding goblins are present in every bordering region.
World: Any (most common in Midgard)
Diet: Omnivorous
Height: 3'6″
Lifespan: 50 years
Habitat: Anywhere
Activity Cycle: Preferentially nocturnal, adaptively diurnal
Goblins are a mid-sized species of fae, native to Alfheim but quite likely more common now in Midgard, where they thrive in the great civilizations that humans and their offshoots have created. Goblins are naturally a mutualistic species, attaching themselves to others and building on their society rather than making their own. They are not parasites, at least not by nature; their instinct is to fit in, copying their host species' culture and working to make it their own.
Goblins are extremely mutable, as is evidenced by their multiple offshoots, but they share some features. A goblin's skin tone is usually green, with some having a more blue tint, particularly those of colder regions. Their bodies are hairy, equally so in both sexes (it is in fact impossible to tell the difference between male and female goblins in most cases, and the only thing keeping female goblins from growing facial hair is human conventions), with the hair thickest beneath their waist. This hair is usually black, but can be dark green, yellow, or even red. Their legs are like a bird's in structure, making them quite nimble, and their arms are significantly longer. Lastly, they have large noses, ears, and eyes set on a head larger for their body size than a human, more like a child than an adult in proportion.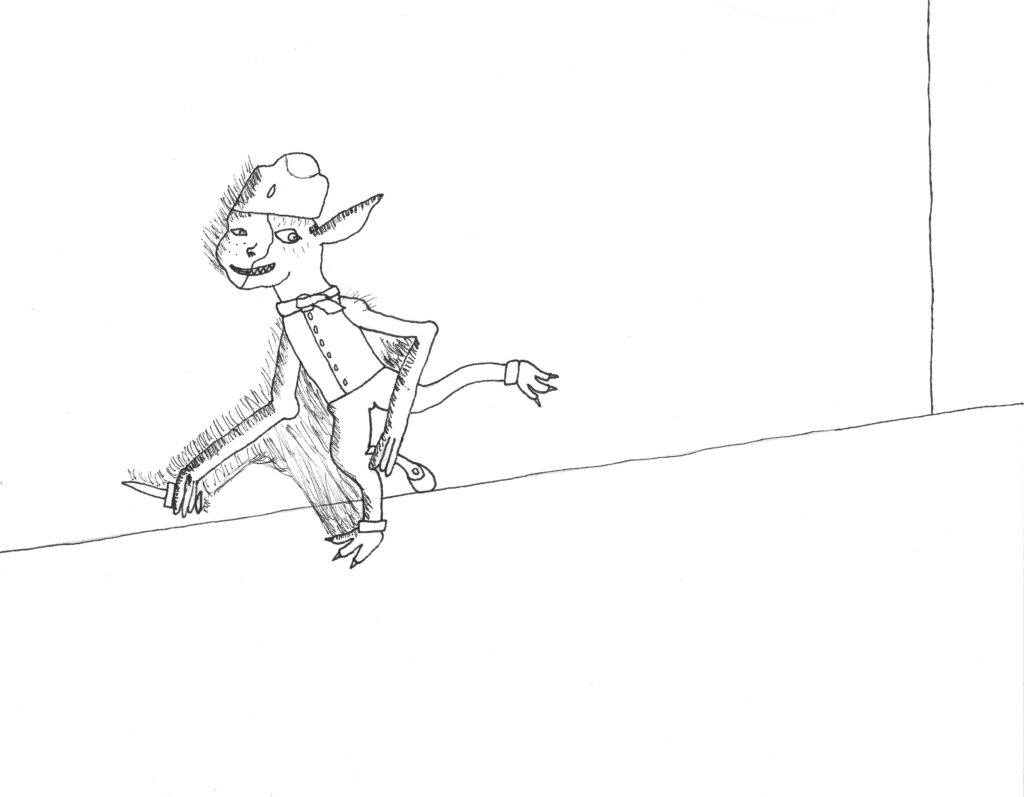 As fae, goblins have some level of natural magical ability, in their case the ability to disguise themselves as creatures of similar size. As infants, disguised goblins are placed with human families to be raised, with a series of enchantments wrapped around them to convince the parents that the child is theirs. By the time they realize otherwise, the goblin is usually near self-sufficiency, as they only take about 6 years to reach puberty, especially if they have been fed on milk. In most places, they would not wish to be rid of the goblin anyway. Because of their quick growth and skills, they will quickly become an asset to the family, and in some parts of the world, they are particularly valued for their unique mindsets and skills.
Mentally, goblins diverge from humans in several ways. Put broadly, they can be seen as being children with the intelligence of adults. They are curious, often reckless, and fast learners. They are more gregarious than humans on average, with fewer introverts, making them talented diplomats. Their moods are as changeable as the weather, and to humans they come across as distractible and flighty. However, this is all natural to a goblin. They get things done, just not in the same order as a human would, skipping between parts and tasks in an idiosyncratic way.
Regardless of the culture they attach themselves to, goblins have trouble taking authority seriously. They willingly listen to those they respect, but that respect must always be earned. An appointed leader holds no sway over them, and as such, a monarch who wants to use goblins will need in-betweens that they see as worthy of respect. They also do not form steady romantic relationships, and even when required by a society to marry, they keep to their usual mating habits, coupling for both reproduction and enjoyment with any partner they wish. They have a complete lack of pair-bonding, not needing it to raise children.
Cultures of Goblinkind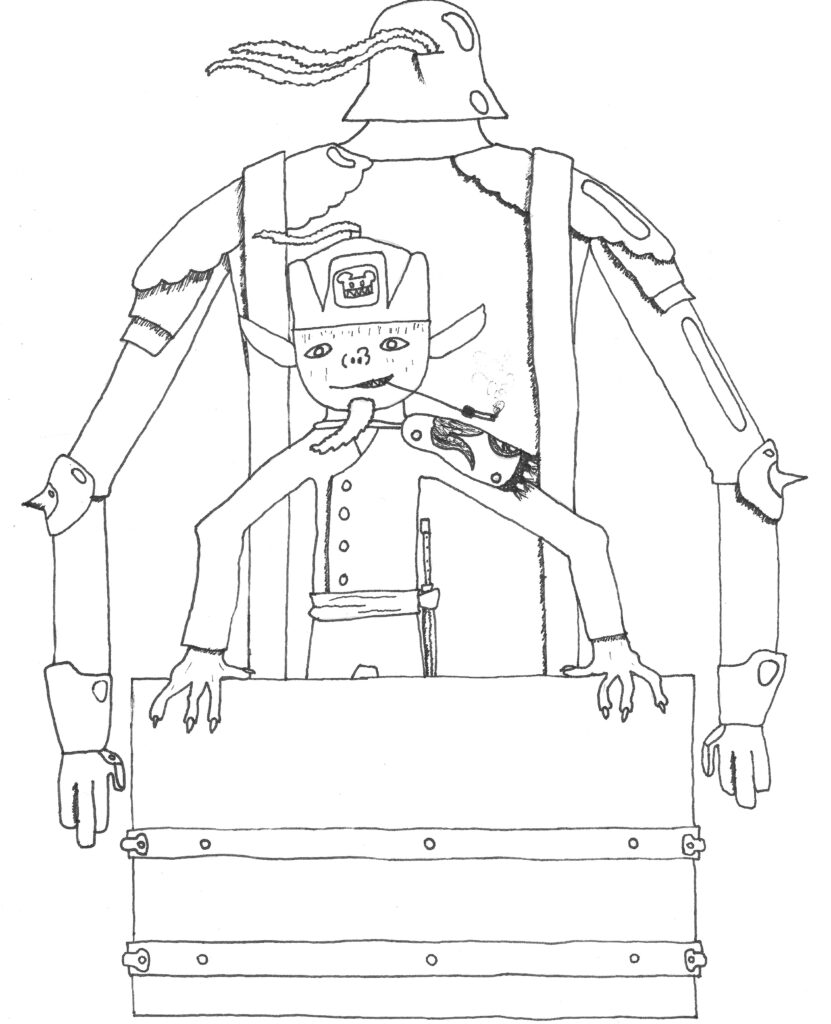 In Gurngamos, the World Empire, Goblins are frequently employed as tax collectors, using their interpersonal skills to wrangle money (and young ogres) from remote peasant villages. They travel with a small convoy, usually supported by a single ogre knight. A goblin tax collector is often welcomed, as some will ignore orders from above in order to help out a struggling town.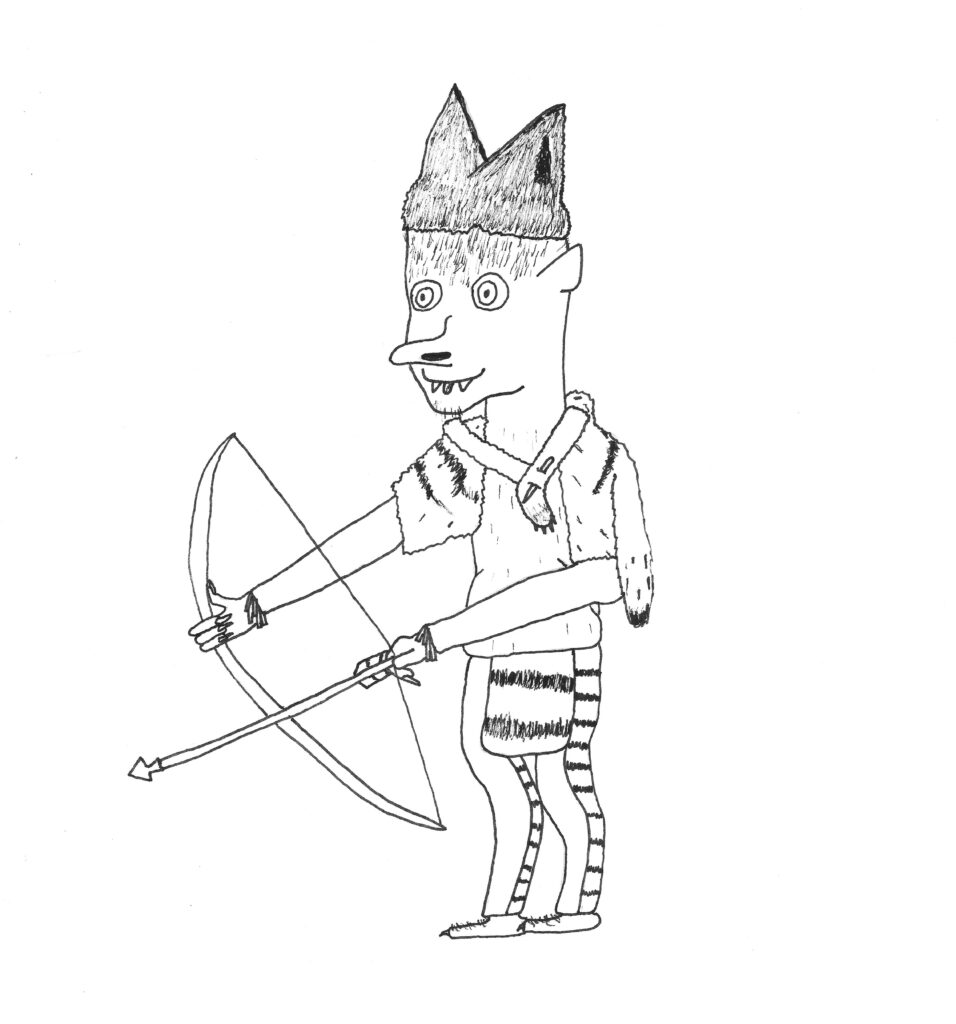 Within and around Gurngamos are various tribes of werewolves. Werewolves live as small family units, children staying with their parents to help them out until they reach maturity and leave. Supplementing these units are goblins, who effectively function as eternal children, never leaving their werewolf parents.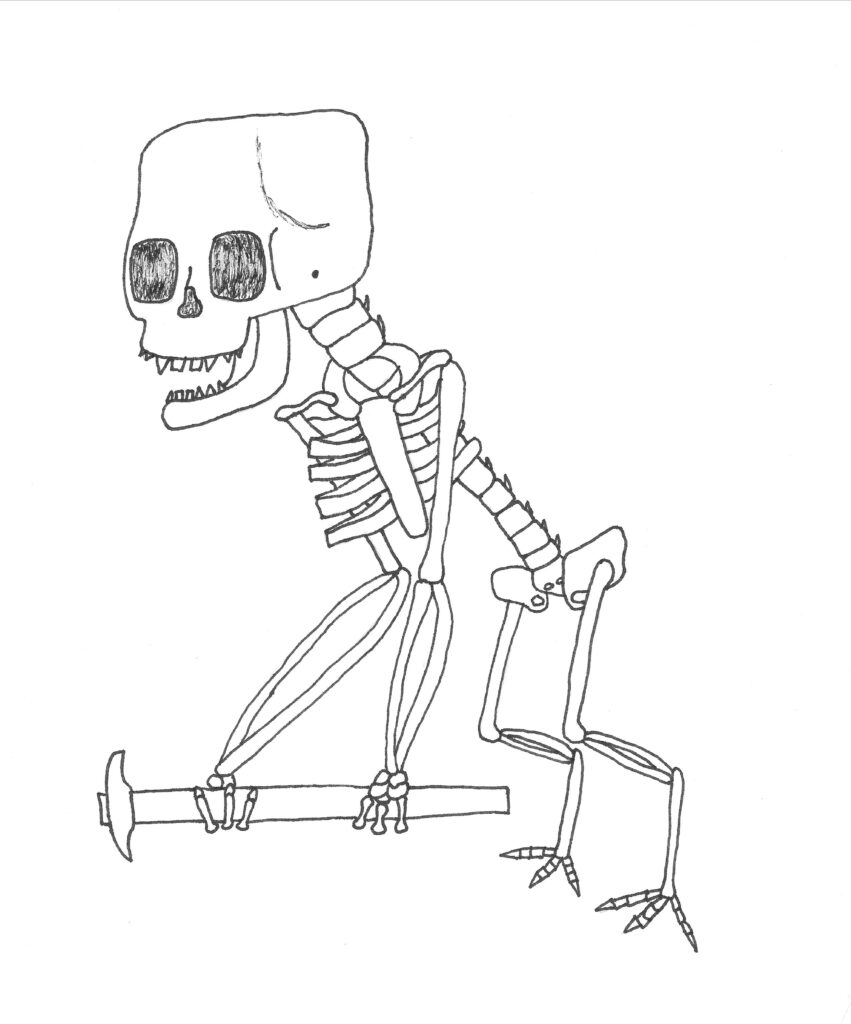 Harthel is the world's leader in necromantic knowledge. The bones of the dead are usually disassembled for the purpose of creating industrial machinery, but some corpses are left intact for tasks that rely on an entire body, such as mining. Most goblins of Harthel are poor and sell their bodies to the Deadherds for labor, and they form a great portion of the general rabble of Harthel's lower classes. With their disinterest in organization, few goblins join the larger gangs of Harthel, but some of the more desperate form small gangs of their own.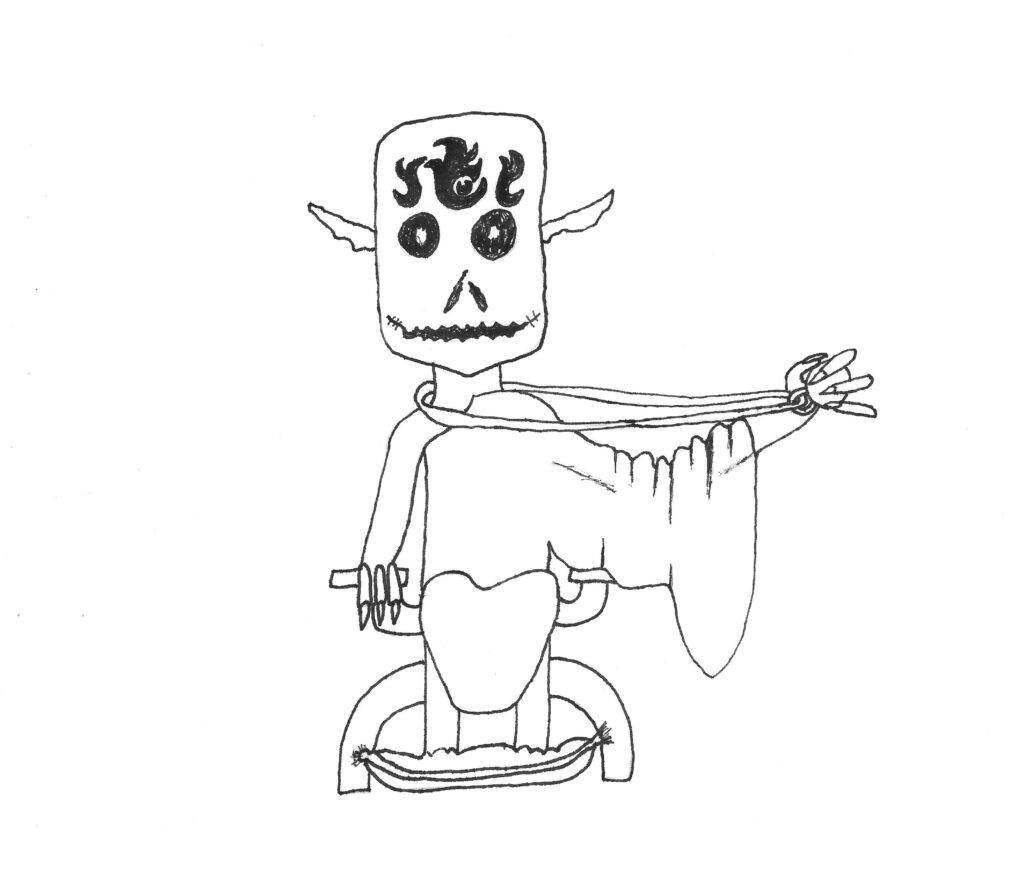 A few lucky, wealthy goblins can instead live on, fully undead but retaining their full intellect and personality. These few are part of Harthel's ruling class, on equal footing with their human counterparts. Harthel does not discriminate strongly by species, just by the coins in your purse. Tattoos are common in the upper class, standing as symbols of permanence. The wealthy goblin depicted here has tattoos representing the flames of the eternal phoenix, even more specifically a symbol of immortality.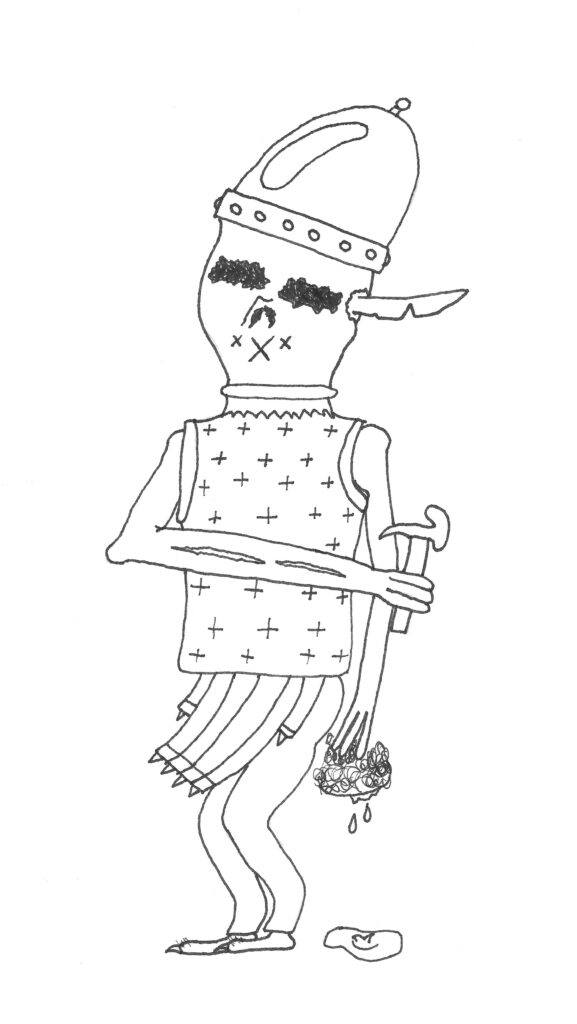 In the Leontide Confederacy, there are many nations, but among them, Denghelm is the most dominant militarily. Its most famed warriors are the terrifying Headhunters, fearsome knights who harvest the crania of their fallen foes for status and intimidation. Goblins, being even more comparatively tiny next to the lion-men of Leontide, cannot lug around many heads, and those who join Headhunter units are instead referred to as Scalpers, for they take the scalps of their foes for the same purpose. Scalpers often advance ahead of the main army to scout and kill soldiers and support they can find in small numbers, lowering morale before the main force strikes.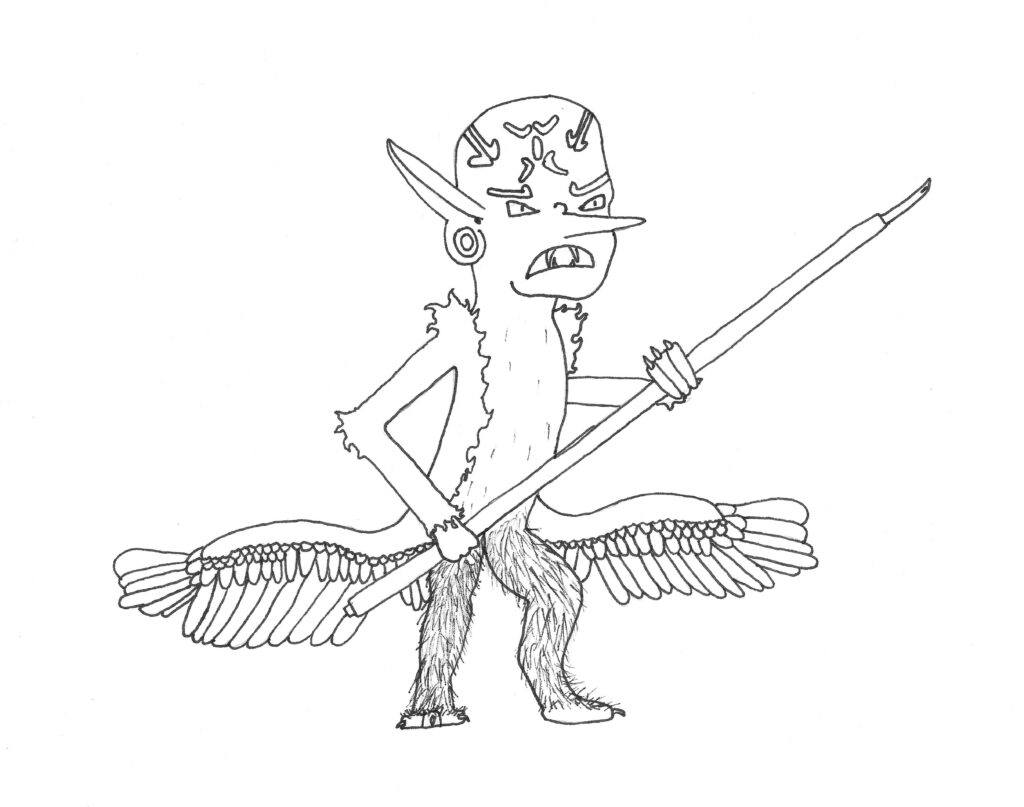 Outside of the more advanced, agrarian parts of Leontide, there are vast tracts of forest only known to native tribes. Many of these tribes have their own populations of goblins, including this elite Yellowbird warrior, empowered by two magical objects. Their feather shirt allows them to fly for brief periods, and their spear is formed from a venomous fang and still carries deadly toxins within.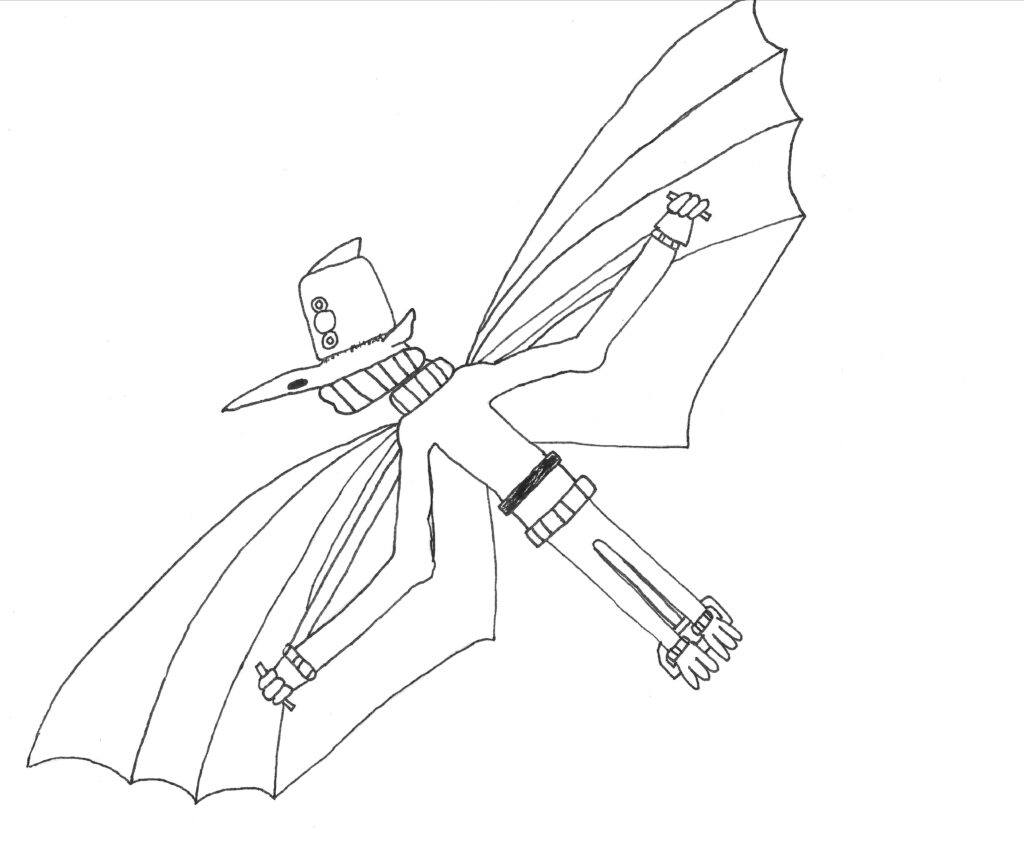 Also bordering Leontide is the empire of the harpies, located in what Leontide calls the Gemtip Mountains and the harpies simply call by the name of their kingdom, Omophore. The goblins here have adapted to ride the same wild currents of air that the harpies do, using gliders to move semi-gracefully from mountain to mountain. They hold an uncomfortable position in Omophore's strict caste society, because while every type of harpy is strictly ordered from top to bottom, the goblins are not harpies and so lie outside of the system.
Other Goblins
Outside of the standard goblins, there are several groups who are too divergent to be considered simply different cultures. They are each as internally diverse as the goblins, but as few live with humans, their own cultures are more poorly known. These species follow.
Egglings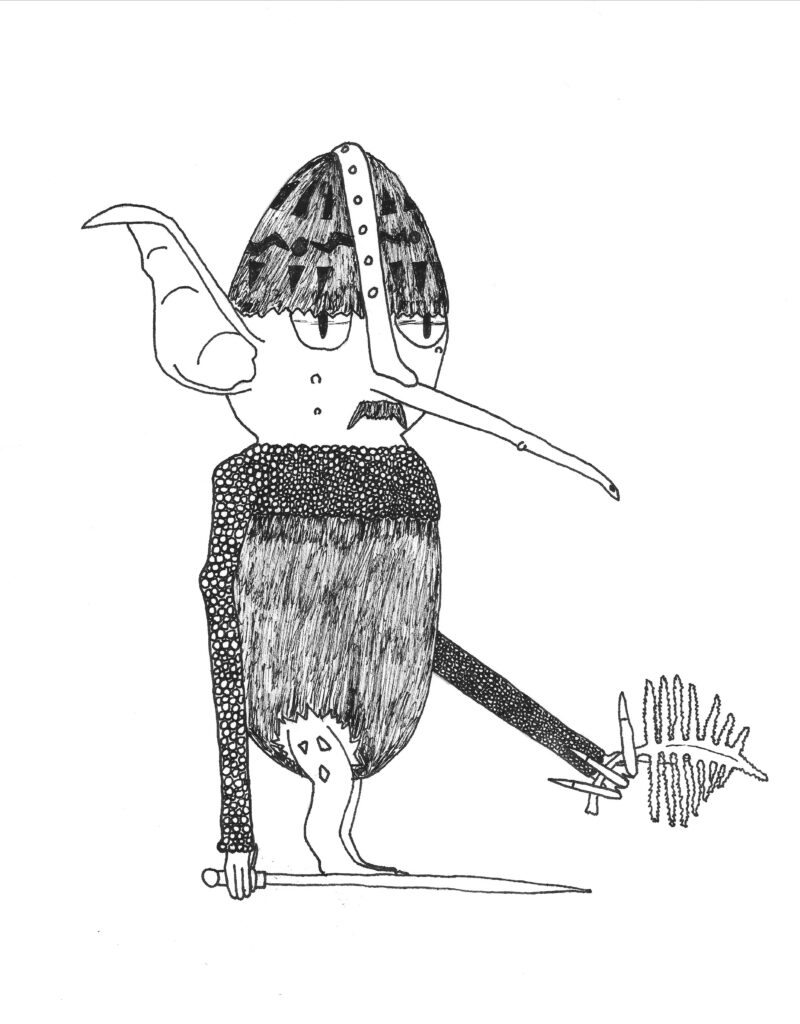 World: Any (most common in Midgard)
Diet: Omnivorous, preference for eggshell, shellfish
Height: 1'3″
Lifespan: 45 years
Habitat: Anywhere
Activity Cycle: Nocturnal
Egglings are the smallest of goblins, tiny creatures that unlike other goblins, hatch from eggs. As such, they only infiltrate the nests of egg-laying folks like the lizardfolk and sapient dragons. They easily fit in with all variety of scaled folk, and their scent reminds dragons in particular of their young, encouraging a protective instinct among them. As such, many major dragons will have large tribes of egglings living in or around their lairs.
Despite being tiny, egglings are surprisingly tough creatures. Their shells are ingrained with their body, with their ribs and spines being fused into them. They have crushing teeth to grind up eggshell and the shells of smaller animals, which they need to build their own. These shells are as tough as iron, and can be repaired over time if damaged. If you ever see an eggling with many strange lumpy parts to their shell, be careful; they are a veteran warrior, and those lumps are scars from their shells growing back after damage.
Due to this toughness and the protection of dragons, many egglings are oddly bold and aggressive, seeing themselves as quite invulnerable despite not even coming up to the knees of the average man.
Grindylow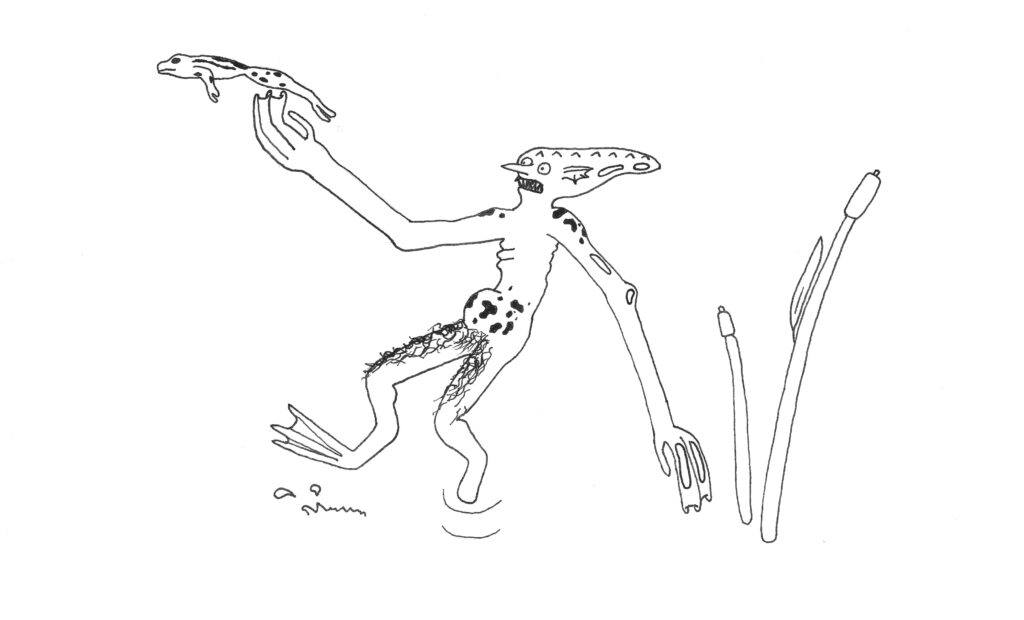 World: Alfheim
Diet: Omnivorous
Height: 3'4″
Lifespan: 50 years
Habitat: Wetlands
Activity Cycle: Nocturnal
Found among other semi-aquatic fae, grindylows are nearly identical to the standard land-dwelling variety but for their amphibious nature. A grindylow can breathe underwater and must keep its skin damp at all times, but they can readily venture onto land for food, so long as they return to the water regularly. They often play pranks on people travelling through the wetlands, and unlike most goblins, are quite willing to eat anybody who dies there, making them some of the more dangerous of their kind.
Kobold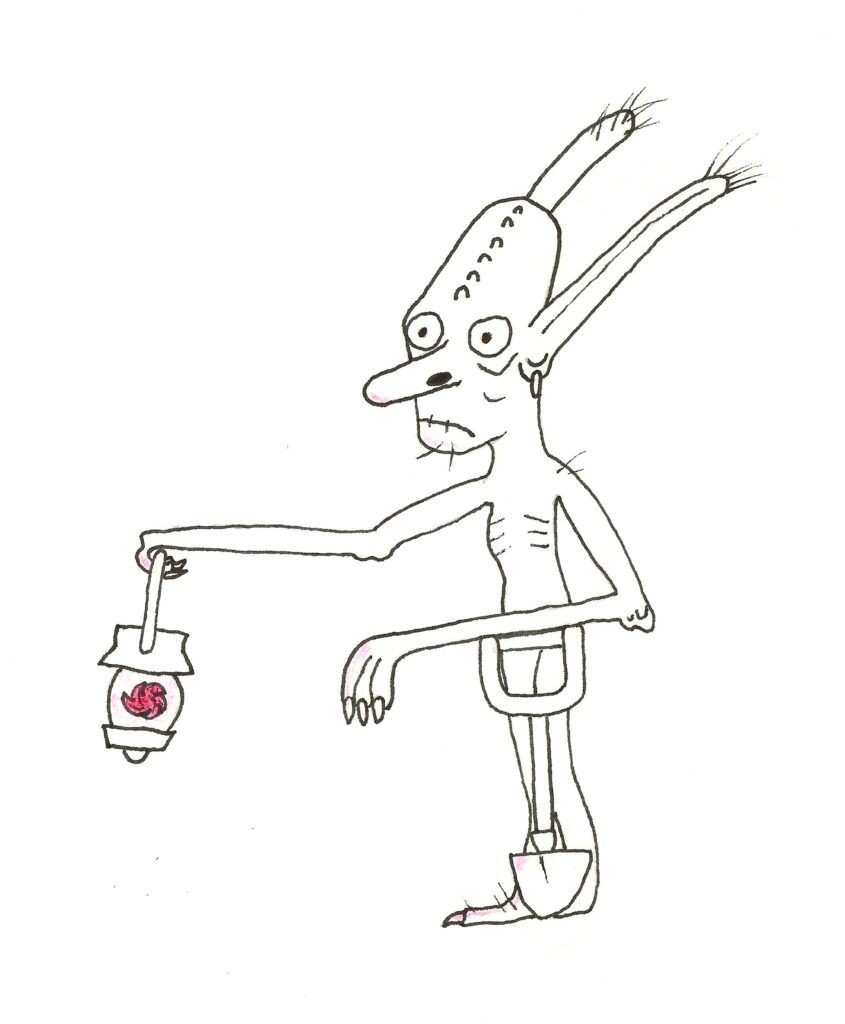 World: Midgard
Diet: Fungi, rodents, invertebrates
Height: 2'9″
Lifespan: 50 years
Habitat: Tunnels underground
Activity Cycle: Nocturnal
Kobolds are an offshoot of goblins that lives underground, within the colonies of the "lisk", a mysterious species of reptiles who live as ants do, leading to the popular term of "antfolk" used by many people who have heard of but not met them. Kobolds are a little unruly by the standards of the lisk, but they integrate well enough to be useful workers.
Kobolds distinguish themselves from regular goblins in several ways. First, they are much more slender than their relatives, allowing them to fit through incredibly small gaps, especially because their skulls are actually flexible. They are also less hairy, producing less of their own body heat. Much of their hair is concentrated in a set of whiskers on each ear, supplementing their senses with a great sense of touch. By touching an ear to a wall, they can sense the movements of others nearly a mile away, an incredible gift when in the tunnels of the lisk.
Unlike the bold egglings and often reckless goblins, kobolds have a reputation for being skittish. This is largely a misunderstanding, as within their tunnels, kobolds act mostly like other goblins. The difference is simply because most kobolds that surface folk meet are on the surface, out of their element, usually for scouting or simply because they were exiled.
Gremlin
World: Black Wastes
Diet: Omnivorous
Height: 3'5″
Lifespan: 30 years
Habitat: Abandoned Cities
Activity Cycle: Diurnal
Some of the abandoned cities of the Black Wastes were so thoroughly mechanized, running by themselves on self-sustaining power sources, that they still run to this day. The bowels of these cities are now the homes of the gremlins. By instinct, gremlins work with technology, altering it in endless fashions. To most gremlins, their entire world is these city interiors, everywhere else a blasted hellscape of black magic as far as they know.
The third arm of a gremlin is physically quite weak, but dexterous enough to wield tools, allowing them to quickly construct or deconstruct technology. The results, unfortunately, are inconsistent. A gremlin is incapable of making the same result twice when constructing devices, and a tool that works perfectly one day will be worthless the next. Attempts to reverse-engineer their tools by others have never succeeded, and many think that a gremlin's skills have nothing to do with actual engineering.
Coranyeidd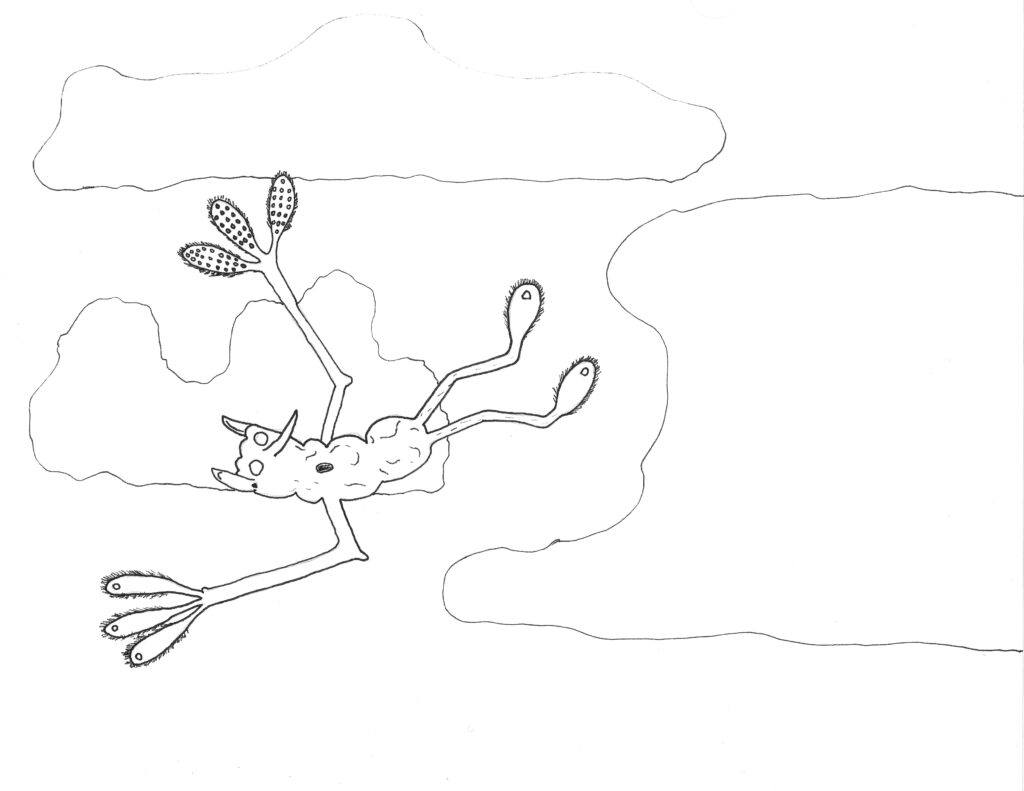 World: Alfheim
Diet: Insects
Height: 3'5″
Lifespan: 30 years
Habitat: The sky
Activity Cycle: Diurnal
The coranyeidd are a less common species of goblin native only to Alfheim. Their bodies are glassy-transparent, tinted blue. Their organs can even be seen in the right lighting. Feather-light, coranyeidd live in the cloud nests of the sylphs, aerial fae of the skies. The hairs on their broad fingers are used both for helping to paddle through the air and capturing small particles and insects to feed upon.
A coranyeidd never touches the ground, being so frail that they cannot support their own weight, but they do sometimes come down to spy on and mess with surface folk. They can become invisible and redirect sounds, muddling conversations or muting them entirely as a prank. They are often sought after as spies and saboteurs, but they have a bad habit of messing with everybody involved for their own amusement.
Hemogoblin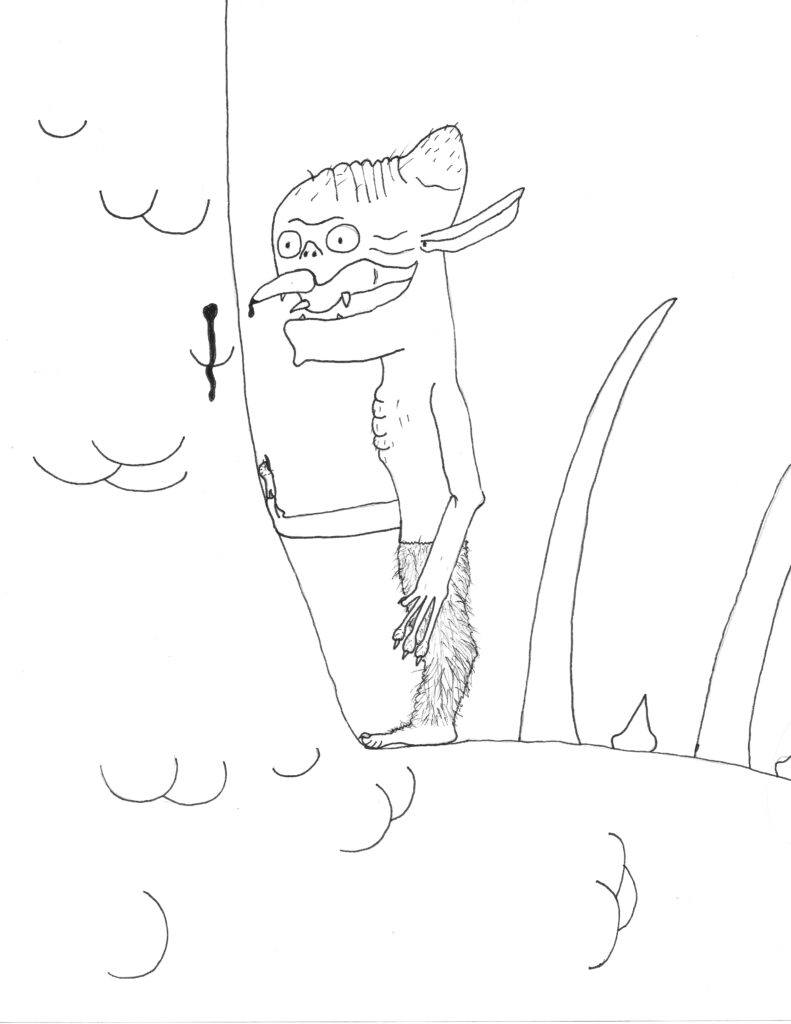 World: Jotunheim
Diet: Blood
Height: 2'3″
Lifespan: 30 years
Habitat: The bodies of giant creatures
Activity Cycle: Nocturnal
Native to the land of giants, hemogoblins live the majority of their lives on the bodies of larger animals. They are excellent climbers, roaming all over the bodies of their hosts, often using different parts of the body for different tasks. They use their large frontal tooth to penetrate thick skin or scales, then lick up blood from the wound. They can even process the blood of dragons without harm, a chaotic slurry that would kill or mutate most animals.
Hemogoblins live in fission-fusion groups, nomadic parties that split up and join together depending on food sources. Larger groups will congregate on larger hosts, while smaller hosts will get sparser populations. When a population grows too large, a group will break off to find new herds, a dangerous trek that many will not survive. Exile is the standard punishment for major crimes, as it is assumed that most hemogoblins cast out alone will die before finding a new host that will take them.
Buggane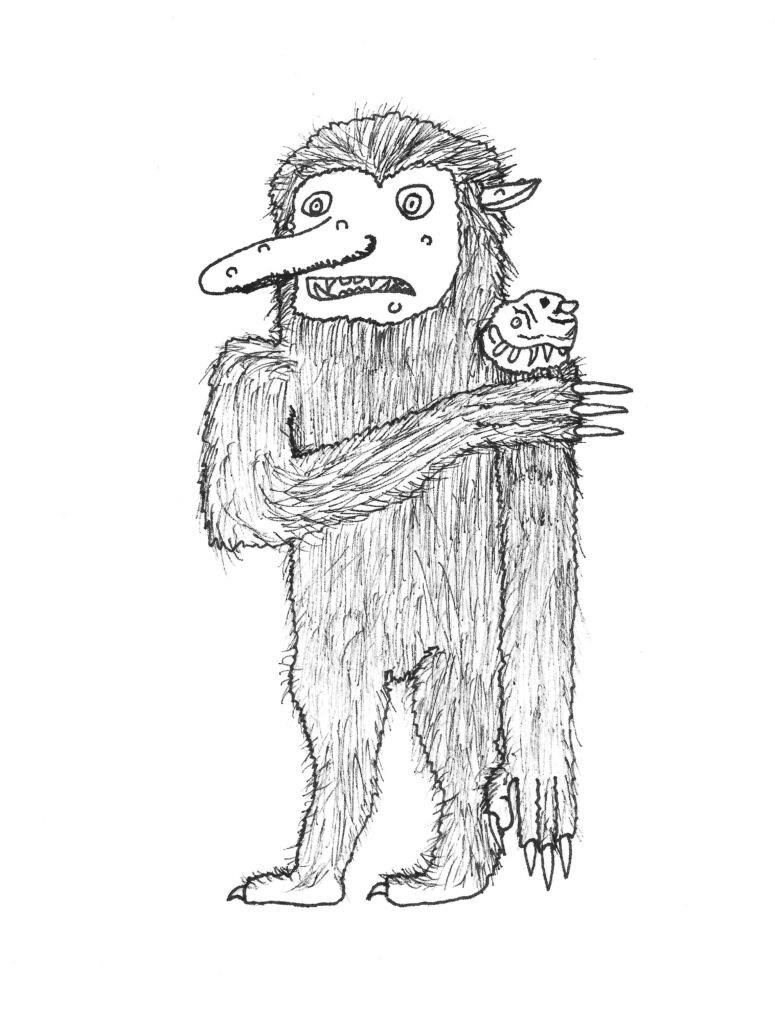 World: Alfheim
Diet: Omnivorous
Height: 7'4″
Lifespan: 60 years
Habitat: Abandoned Cities
Activity Cycle: Cathemeral
The largest and hairiest of goblinkind, buggane live among trolls. While smaller and weaker than even the smaller troll types, they still benefit their troll relatives by being active in daylight, something that harms trolls. With their strength and thick fur, they spend little time making tools or clothing, and instead focus on garnering enough food to fuel their massive bodies. They often use their claws to rip chunks out of rotting trees to find bugs.
Trolls are naturally two-headed, and while bugganes don't have a real second head, they have a tumorous false head. Psychic abilities tied with this tumor make it difficult for observers to recognize which is their real head, and those attempting to fight a buggane will find themselves driven to attack the tumor, doing no lasting damage to the buggane. Those who fight a buggane often find it difficult to recognize faces afterwards, developing simultaneous face-blindness and severe pareidolia.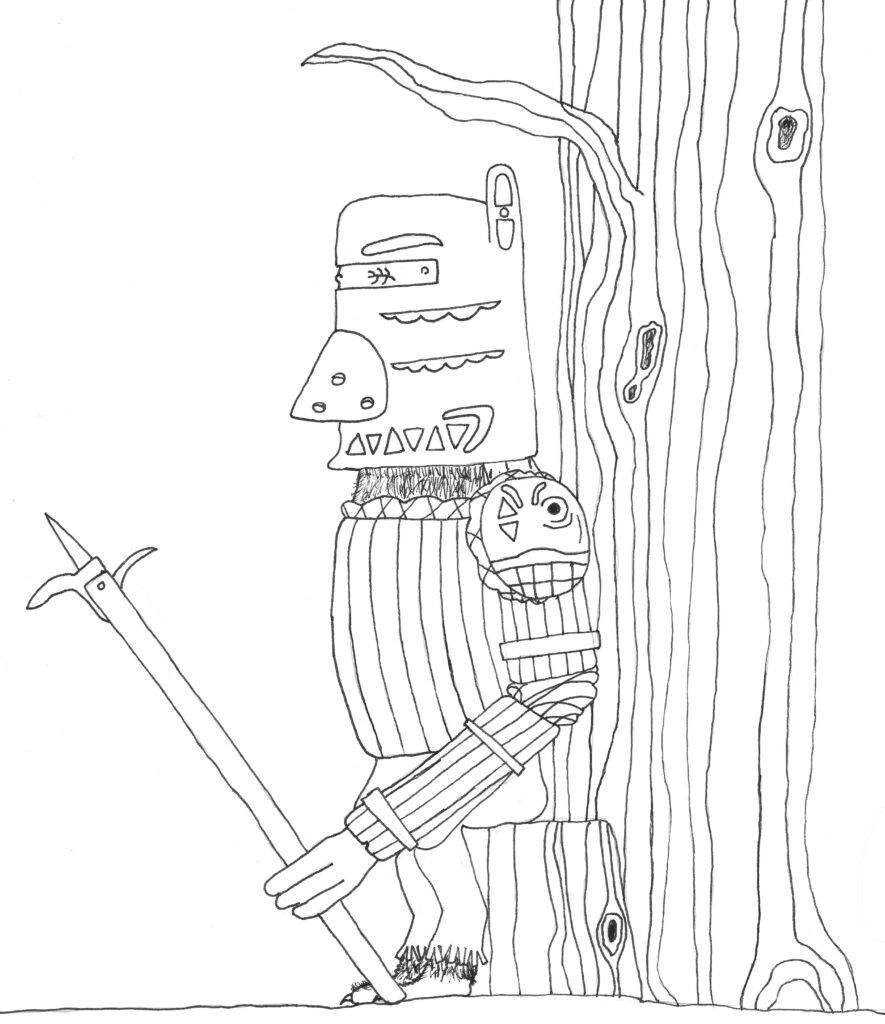 Many tree trolls take up jobs guarding the ancient leshii during their dry season slumbers, forming groups known as the "leshguard". If a buggane's family forms a leshguard, they are sure to join, donning the same magical wooden armor and defending the slumbering giant with all their might.
Goblock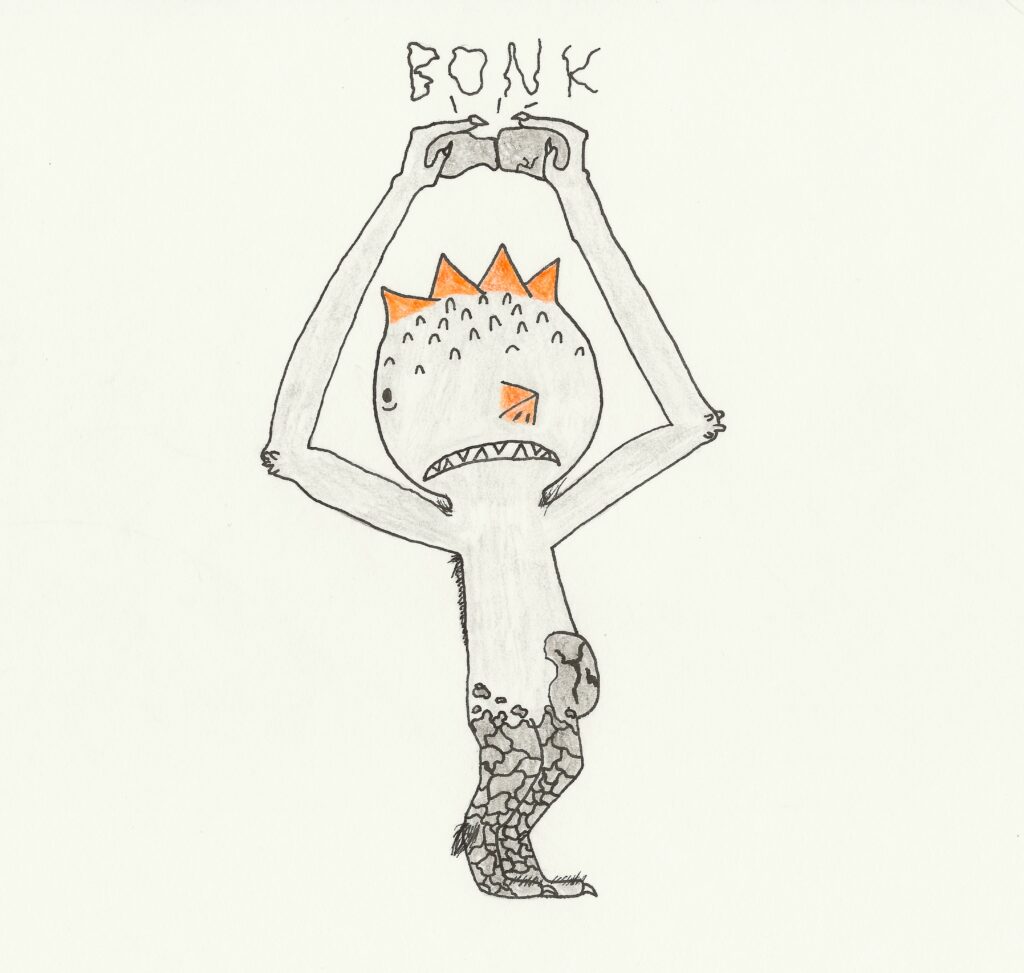 World: Midgard
Diet: Omnivorous, require iron ore
Height: 4'0″
Lifespan: 70 years
Habitat: Caverns
Activity Cycle: Nocturnal
Native to the islands of the gorgons, goblocks are a blind offshoot of goblins, sightless for the purpose of immunity to a gorgon's deadly gaze. Often, they help to herd the blind animals of the gorgons, but more importantly, they are diplomats and traders between the islands. While they cannot sail, they readily move between the islands via the network of caverns and tunnels beneath them.
Goblocks have powerful senses of smell, but more important to this navigation is their magnetic sense, helped by the traces of iron in their nose and crests. With this combination of features, many goblocks have also found a living far deeper underground, living with the creatures of erebus.
Hobgoblin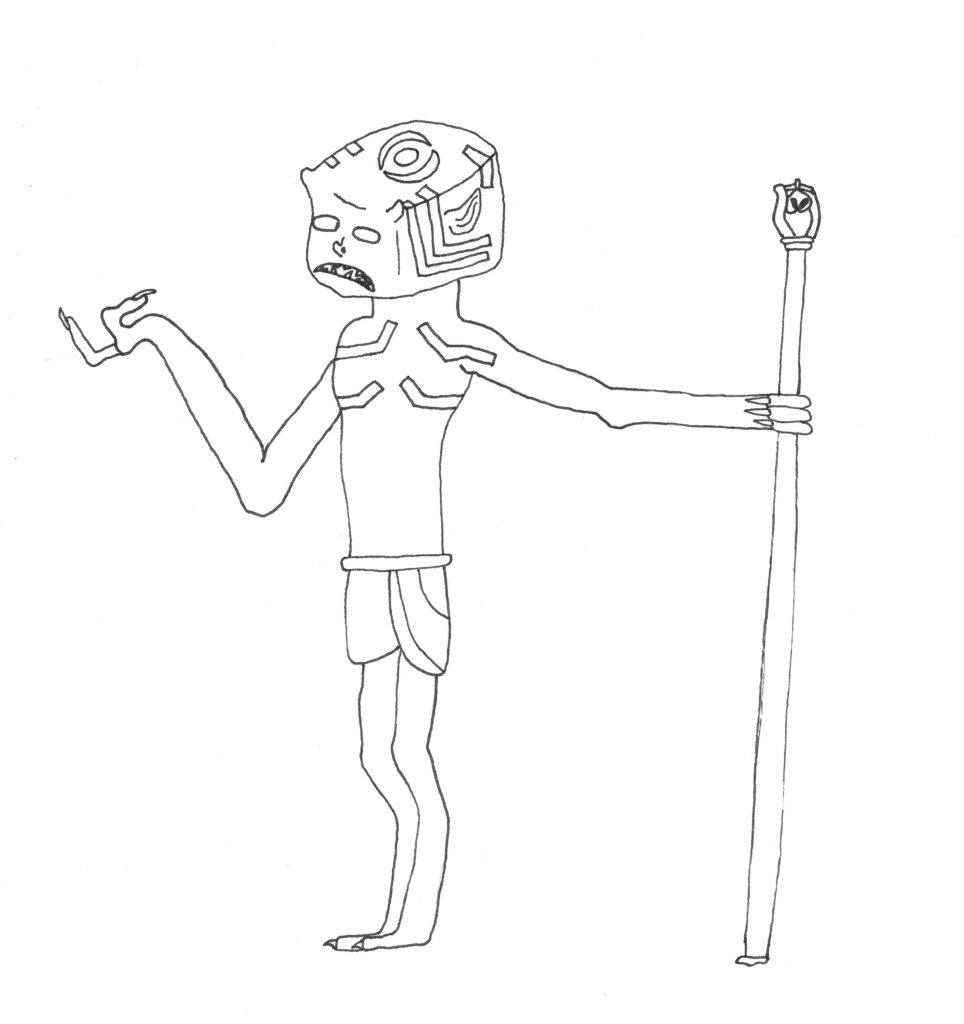 World: Any
Diet: Omnivorous, require iron ore
Height: 4'0″
Lifespan: 200 years
Habitat: Caverns
Activity Cycle: Nocturnal
Rarest of the goblins, hobgoblins are also the most mysterious. Nobody has ever seen a non-adult member of the species, and instead of integrating into the societies of other beings, they attempt to create goblin civilizations. To a one, they see themselves as leaders of goblinkind, although they differ greatly in how they interpret this role. Some are devout priests leading religious circles, others are warlords who wish to raise a conquering horde, and still more are dull, bureaucratic civil organizers. Tall (by goblin standards), slender, and bright red or orange in skin tone, they do at least draw attention when they wish to.
Goblins being goblins of course, this task is as easy as parting a dragon from their gold. A hobgoblin will need to prove themselves to impress any goblins into following them, and continue to prove themselves over and over to keep them. As such, the few hobgoblin-led polities are temporary things, limited to the life of a single great leader and collapsing upon his death. The only current one is the rapidly-expanding Exharia, a nation near Harthel led by a hobgoblin warlord and supported by several other hobgoblin leaders. Exharia represents all species of goblin, along with their allied host species, making a terrifying force that has Harthel on their toes.
Of course, most of them can't even keep their followers from having a snowball fight.